Pre-purchase Survey of your boat or yacht, what is your benefit?
Our purchase inspection gives you a clear and objective impression about the condition of the yacht. So you can sail her with confidence if all is in order, or enter, with our findings and survey report in hand, into negotiations over the purchase terms, price and conditions with the seller.
Sometimes, you save yourself for a lot of problems and buying a pig in the poke.
Our report will also be of help to obtain an insurance with your intended insurance company, against favorable terms and conditions.
We can also provide verification of the registration in the Dutch register (Scheepskadaster) and view liens and mortgages imposed on the yacht in the Netherlands. Registration is not compulsory in the Netherlands, but often done on voluntary basis. If registered, you are sure that the seller is the legal owner, and entitled to sell the yacht.
We are open and objective when surveying and explain our activities and findings at the spot during the survey towards buyer and seller.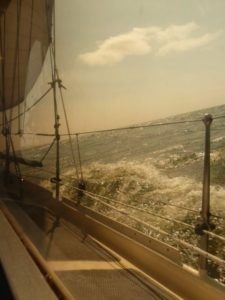 For purchase and sale transactions in the Netherlands (and most other countries), it is a legal requirement that the seller notifies the buyer about any known defects (legal duty for notification), and that the buyer performs reasonable effort to examine the goods (duty to investigate).
With our purchase inspection, you fulfill your duty to investigate and as such can not be accused of negligence.
A purchase inspection can not deprive the rights you have against a seller in case of non-conformity or conflict. The legal obligations of a seller remain unaffected, such as duty for notification of defects, and delivery for normal use, as described or as to be expected by age. (compliance of the object by law)
Pre-purchase condition Survey of your yacht or boat, what we do for you!
In our extensive condition survey report (about 350 items) are among others included the visible condition of the hull, deck and superstructure, operation of propulsion machinery, technical installations, electrical installations, gas, rigging, construction of the ship and a short trial run. A full pre-purchase condition inspection usually takes a full day. In the day's thereafter the report is written,  we again check our notes and pictures taken for deficiencies.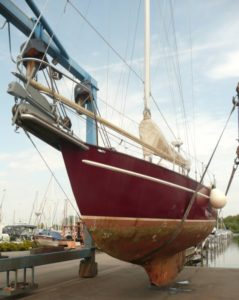 An important part of the purchase inspection is the inspection of the underwater hull, such as the ultrasound thickness measurements for steel yachts or osmosis inspection and moisture measurements for fiberglass boats.
An sea trial during a purchase inspection is sometimes not possible, as it depends on the type of boat, conditions and storage locations. Ships are not all-way's berthed in water, but for example, stored in the back of a full yacht storage shed, and left there a the time of the inspection.
We strongly advise that you include a clause in the bill of sale, for a sea-trial prior delivery and acceptance.
Pre-purchase survey, the condition survey report
Our observations are noted in the extensive survey condition report. They are mentioned as general remark, maintenance and minor deficiencies and or so called essential defects.
The report provides you with information about the condition of the boat, yacht. Based on the report you can and you can take a well-advised decision, decide to, or not to buy the boat.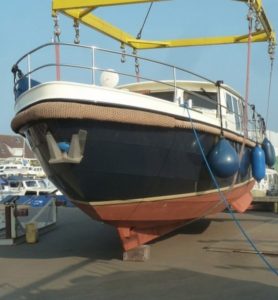 We recommend that you agree with the seller, prior to the inspection, as to the outcome of the inspection, particularly as to repair costs of essential defects and your acceptable extent, costs of defects.
Also agreement as to sharing of cost, based on burden of proof can be made.
Such agreement prevents a lot of discussion afterwards and you are not forced to purchase a "wreck", whereas the seller will not has to repair a wreck, and deliver such later to you.
The cost for repair of essential defects are in general practice born by the seller. Or as otherwise agreed in the relevant bill of sale or letter of intend.
We advise you to be cautious when a "provisional" purchase contract is offered, to be signed. A preliminary, provisional, contract does not exist.
If the "conditions" in this provisional contract are met, or fulfilled after repairs or alike, the contract is binding. for both seller and buyer.
The physical inspection, survey, notification period for appointment?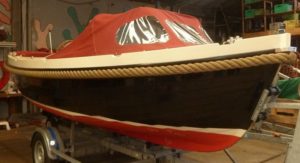 Our inspection can often be scheduled within a few day's after your request, sometimes on very short notice. Reports are being made verbal on the spot, and a written report soonest in the day's after the survey. On special request next day. We do our utmost so that you can quickly enjoy your new yacht.
Our clear and objective reporting is in practice highly appreciated by both buyer and seller.
Treat yourself with  peace of mind. Have a pre-purchase condition survey on your yacht.
Blue Loeks Marine evaluates independent and objective the boat of your dreams, and scrutinizes equipment and condition of the yacht. No time constrain within the day of survey.
No boat or yacht is the same and the inspection is therefore tailor-made by us, as your surveyor. We work throughout the Netherlands and internationally, besides English, we also speak fluently German.
We can find our way in French and Spanish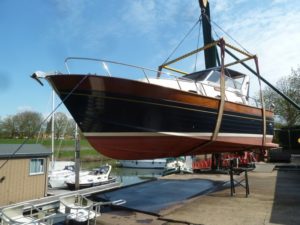 A survey requires a lot of knowledge, time, experience and a thoughtful process to assess objectively the ship into an acceptable (affordable) time frame. Thereafter the report also requires care and time.
For smaller vessels repair costs can be significant. A bargain can therefore become very costly.
We do not save on the survey, but we can save you money on the report, by not making a (full) report.
You can contact us, without obligation, to discuss your survey, requirements and options.