Hull condition survey
The hull-survey (underwater part) is the most important inspection for a boat. We recommend to have such when buying a yacht. The hull condition survey should be performed by an independent yacht surveyor.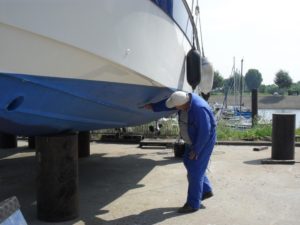 Often this survey is also a requirement for your boat insurance, in particular for steel boats or yachts. Specialized Yacht-insurance companies usual ask for this survey, with your application for an insurance. Other's often do not, as they do not want to demotivate you or scare you off.
However, they will ask for the hull survey condition report in case of damage. If in such case you can not hand over a recent survey condition report, it will be hard to prove for you that you did your utmost in maintenance and your hull was in good condition.
Most likely you will have to bear the costs of the damage. Moreover consequential losses under you liability, such as environmental pollution will not be reimbursed.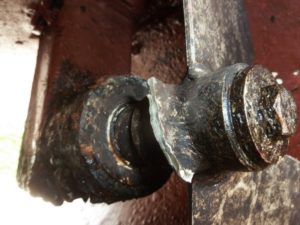 During the inspection of the hull we also check the rudder, propeller, anodes etc.
(Everything which usually is under water and but is visible when the yacht is hauled out..)
Usual the hull is not visible during your visit, or do you not have the equipment (and experience) to measure steel or aluminum thickness or moisture content. In addition, it is not the cleanest job where a lot of time is spent.
And you are as being owner or buyer not independent This also applies to your good friend or relative which accompanies you.
We advise you to be very wary regarding cheap offers for measurements or inspection, it simply take time for a surveyor to do a good job, it's more than just putting some figures on a piece of paper and being paid cash.
Underwater hull inspections vary from building material of the hull. Under the menu items you will find more information about inspections of polyester, wood, steel (iron) or aluminum hulls.
We can inspect also ferro-cement, or even concrete hulls