Osmosis survey's
Osmosis, the symptoms such as blisters are the nightmare of any fiberglass boat owner and prospective buyer.  But it's not an unusual phenomenon, and there are various solutions as to treatment, if required at all..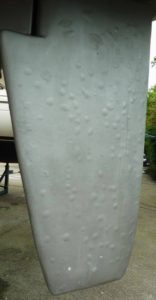 How is the condition of the fiberglass hull, laminate, of your yacht or boat? Our inspection you will give you a good indication.
The laminate is visual scrutinized and conscientiously hammered or tapped, with a special focus on "suspicious" spots.
Any visible blisters on the hull are carefully inspected and assessed on location, size and acidity. Such bubble of blister does not always indicate the presence of osmosis, but may also have another cause.
Within the survey, moisture measurements are carried out. All observations are recorded and processed in our clear, independent hull condition report.
Method of osmosis survey and moisture measurement for GRP yachts and boats
With a moisture meter, we can obtain a good indication, in a non-destructive manner, of the moisture absorption and/or condition of the underwater hull, or affected areas of the hull.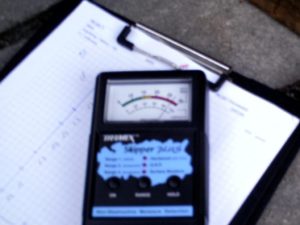 A moisture meter for non-destructive moisture measurement.
With the measurement we can make an assessment if a GRP yacht has an, increased, chance to develop osmosis and blistering into the future.
We measure systematically in patches over the hull area and around suspicious locations, deep in the laminate. If necessary, multiple types of moisture meters are used, such as the famous Tramex Skipper.
On our dutch website an explanation is given for the phenomena Osmosis. As there is in various way information regarding this available for the english language we have not translated this dutch explanation.